PERINAGA CEMERLANG SDN BHD

506883-T

Excellent services, Excellent rates, Excellent you.
About Us
Check out our latest currency exchange rate for multiple foreign currencies. You can check the live currency exchange rate in our "Exchange Rate" section. Feel free to contact us by email or call if you have any questions or enquiries.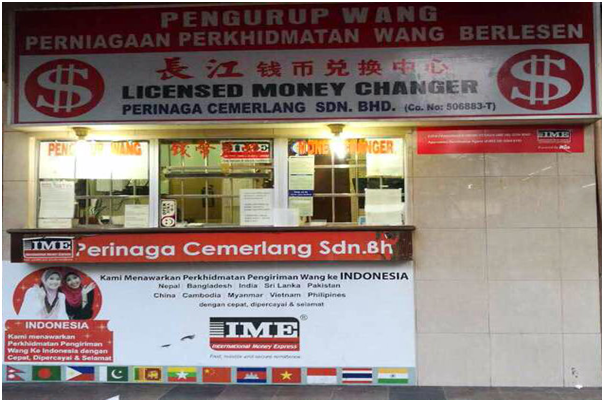 Who We Are
We are a money changer and remittance service provider. We provide one of the best currency exchange rates in the Johor area as well as transfer services to international countries. Incorporated in March 2000, Perinaga Cemerlang Sdn Bhd is licensed by Bank Negara Malaysia (Central Bank of Malaysia) to provide money changing services. Over the years, Perinaga Cemerlang Sdn Bhd has expanded from a single premise business at Holiday Plaza to a business with seven branches. Today, we are among the leading Money Services Business (MSB) companies in Johor, Malaysia serving the retail market to meet their money changing requirements.

To provide remittance services to customers, we applied to become IME RIA's appointed hybrid agent. In 2012, we were officially appointed. This appointment allows us to provide fast, secure and safe remittance services to Indonesia, Nepal, Myanmar and Bangladesh through IME's extensive global network and robust remittance system.

Our Mission
For customers to feel confident when dealing with us, we require our staff to maintain a high standard of customer service and professional integrity. Together with competitive exchange rates based on real-time market conditions and a strong customer focused approach, we have established our mission as Excellent services, Excellent rate, Excellent you.